Luxury Spa Holidays In Ras Al Khaimah
A mystical land of rich traditions and culture, famous for its right mix of old traditions and new concepts is the city of Ras al-Khaimah.The city offers a unique blend of new age tourist destinations spiced with a flavour of traditional heritage. Nestled between Hajjar Mountains and the persain of the Gulf, the city of Ras al-Khaimah offers scenic and picturesque landscapes. From high ranging Hajjar Mountains to the clear turquoise blue waters of the Persain Gulf. A unique destination for all age groups, Ras al Khaimah boasts of stunning mountains, red sandy desert and lush green plains along with a series of creeks and lagoons. The city is also a house for numerous historical sites, forts and abandoned villages dating back to almost 5000 years making it the perfect destination for cultural inquisitives. And not to miss the great Emirati cuisine, known over for its delicious and distinct flavours. You can also enjoy a number of other activities like water sports, rock climbing, trekking, marine expeditions and much more. Ras Al Khaimah is a picture-perfect leisure destination that is a must for travellers, looking for the real essence of Arabia. Travel to Ras al Khamiah with tailor made packages of your choice with us at Sanctuary Spa Holidays.
Filter Your Spa Deals
Holiday Type :
Location :
Sort By :
Popularity
Star Rating
Price Low to High
Price High to Low
YOUR ARE VIEWING 1 PACKAGES
The Cove Rotana, Ras Al Khaimah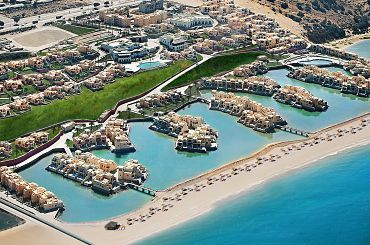 The Cove Rotana, Ras Al Khaimah
Location : Ras Al Khaimah , Ras Al Khaimah
Price Starts From £989
Ras Al Khaimah is beautiful city situated in the United Arab Emirates. A Traditional place to relax and unwind highly influenced by the Arabian culture, The Cove Rotana, Ras Al Khaimahmake it a great destination for taking up a rejuvenating spa holiday.
Amenities
Fitness Club
Jacuzzi
Massage Rooms
Spa
Watersports
Price Per Person For UK Departures
Stay 4 nights from £989 p.p. in a Classic Room, including All Inclusive, return economy flights & transfers.
View Details