Luxury Spa Holidays In Krabi
Spa Holiday in Krabi is much more down-to-earth and relaxing than nearby Phuket, serviced by its own airport and far less crowded or developed. Days can be as laid-back or as adventure filled as you wish, with rock climbing and caving being favourite activities, but also ideal for scuba diving, snorkeling, trekking, fishing and hopping on a long tail boat to other close by islands.If you are more inclined to spend lazy days under the sun, Krabi is the perfect destination to lounge on fine white sand and indulge in delicious Andaman seafood. Krabi is also well known for its Thai traditional Spa and Massage treatments, which has played a big part of every individual's daily life for centuries. Thai traditional medicine holds that the body has four elements: which are wind, water, earth and fire, and ill health results from an imbalance between them. Traditional Thai massage is a proven physical therapy that dates back to ancient India times, before the lifetime of Buddha. It has been practiced here for centuries, and many swear by it as an effective cure for common ailments such as aches and pains, fevers and nervous strains. Most hotels rated three stars and above offer traditional massage as part of their health and fitness services. All the spa resorts include it in their therapy programs.
Filter Your Spa Deals
Holiday Type :
Location :
Sort By :
Popularity
Star Rating
Price Low to High
Price High to Low
YOUR ARE VIEWING 1 PACKAGES
Pimalai Resort and Spa Hotel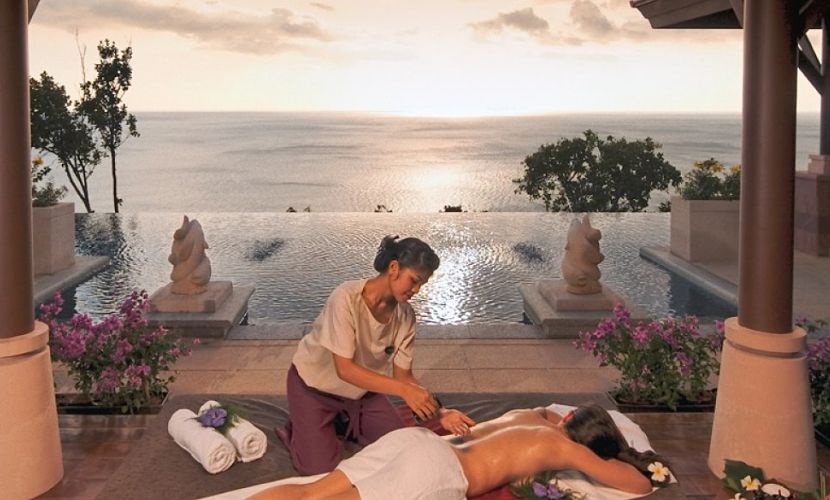 Pimalai Resort and Spa Hotel
Location : Krabi , Krabi
Price Starts From £1019
Built for you, this peaceful and enchanted spa resort is an untold experience waiting to be explored. Situated in a tranquil location where the lush rainforest meets the vast blue ocean, Pimalai Resort & Spa is the place to be. Secluded from the crowded beaches, this exclusive beach resort is yours alone. Truly, it is a place of natural beauty with its tropical gardens and richly built architecture which enhances the soothing warm atmosphere of luxury and elegance that is Pimalai.
Amenities
Massage
Scuba Diving
Snorkeling
Spa
Water Skiing
Yoga
Price Per Person For UK Departures
Stay 7 nights from £1019 p.p. in a Deluxe Room, including Bed & Breakfast, return economy flights & transfers.
View Details